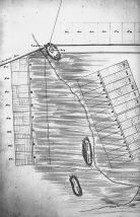 387
Titel
Bevolkingsreconstructie Rütenbrock, Hanentange, Lindloh, Schwartenberg
Auteur
J.B. Berens
Redacteur
Uitgever Jaar
0
Bron
Doctype
Klapper
Pagina's
0
Meer info
Pauline Berens:
http://online-ofb.de/ruetenbrock
Pauline Berens:
https://www.genealogieonline.nl/bevolkingsreconstructie-ortsfamilienbuch-rutenbrock/
Bronnen
JB Berens: scans eigenaren/huurders/bewoners per plaats in 1788, 1798, 1831, 1910, 1938, 1963, 1980, plaatsnummering 1-90b
stamboom van bewoners per plaats in 1798 en 1831
bewoners zonder plaats in Lindloh tot ongeveer 1900 genummerd L1-L67
Rütenbrock plaats 1-36a, Schwartenberg 37-54, Lindloh 55-90 https://data.matricula-online.eu/de/deutschland/osnabrueck/rutenbrock-st-maximilian/ Heinz Menke: Quellen und Forschungen zur Geschichte des Kirchspiels Rütenbrock Band 1 1988 p31-40 transcriptie Napoleonsliste 1812 Copyrights 14-07-2021: "Hallo Frau Berens!
Wir, der Vorstand vom Heimatverein, haben beschlossen, das Sie die Quellen benutzen und auch öffentlich schreiben können. Wir hoffen das wir Sie damit geholfen haben.
Viele Grüße
Wolfgang Krallmann" Rütenbrock op allegroningers.nl HH Blanke: Emländische Moorkolonien m Kreise Meppen, 1938 Deel III - Ruiten A Deel IV Ruiten A (vervolg) ©Museum Klooster Ter Apel
English
My father did research on ownership in the village/parish of Rütenbrock and neighbouring townships Hanentange, Altenberge, Schwartenberg, Alten Schloot and Lindloh. You can see the historical development on land ownership. Per lot you'll see the owners in the years 1788, 1798, 1831, 1910, 1938, 1963 and 1980. The lots have numbers 1-90b. In Lindloh people who didn't own the land are numbered 1-67, research has been done until 1900. The research includes the genealogy of landowners and inhabitants. You'll find several listboxes, respectively 90 Rütenbrock lots sorted on lotnumber, surname, male surname, female surname and 67 Lindloh Inhabitants not owning any land sorted on male surname respectively female surname. Sources in this research project were governmental and church archives.
search example
example
plaats=lot, vrouw=woman, man=man, Ortsfamilienbuch= German for regional genealogy book, bewoners=inhabitants, kerkdorp=parish, aantekeningen=notes
Trefwoorden
Plattegrond, Rutenbrock, Fam. berens, Fam. muller, Fam. nogel, Fam. schulte, Fam. wilken, Genealogie, Altenberge, Altenschloot, Statistiek
Laatste wijziging: 15-4-2018
©

Naamsvermelding "Collectie Broer Berens", Niet-commercieel, Gelijk delen